With recent changes to NCAA rules, student-athletes now have the opportunity to earn income from their name, image, and likeness (NIL) through third-party deals. At U-M, members of the Zell Entrepreneurship Clinic are at the forefront of NIL work, helping student-athletes understand the laws and start their own businesses. 
After four years as a U-M undergraduate and member of the women's gymnastics team, Natalie Wojcik racked up several athletic distinctions: four Big Ten individual championships, 2019 NCAA champion on the balance beam, 2019 NCAA regional champion; the list goes on and on.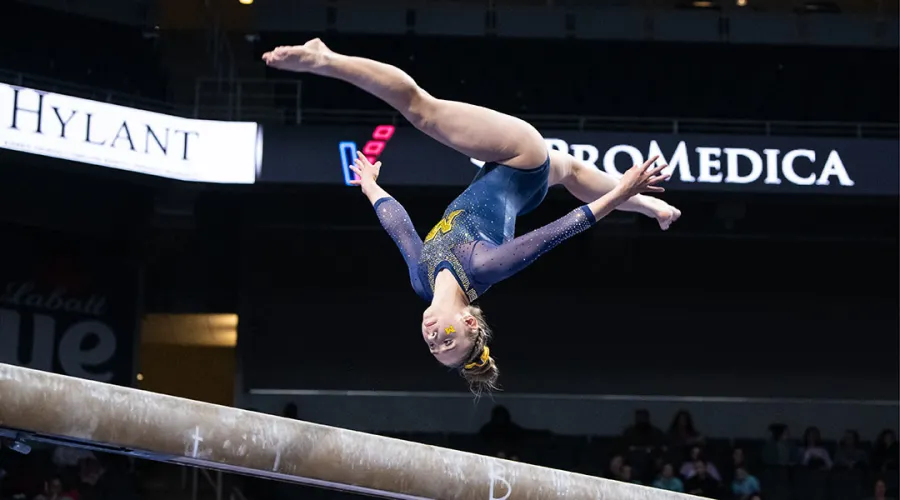 In the past several months, she has been able to leverage those athletic achievements to earn an income by making public appearances, modeling, and sending Cameo videos to fans. She's even seen her own bobblehead doll on the shelves of the M Den.
"It's surreal and puts the biggest smile on my face," she says of the doll. More generally, she adds, "I'm so grateful that I'm in a position where I have the opportunity to have a positive influence on fans and be able to connect with them through the sport that I'm so passionate about."
Wojcik is currently pursuing her master's degree in social work at U-M (she extended her gymnastics eligibility for one year due to COVID, per NCAA rules), and is one of an unprecedented generation of student-athletes who have the potential of earning income from their NIL through third-party deals. 
Banned a mere two years ago, NIL deals are now legitimate thanks to the US Supreme Court's unanimous decision in NCAA v. Alston, which spurred most states to pass laws related to NIL. In Michigan, currently enrolled student-athletes can earn compensation from activities like endorsements; prospective students, however, are not allowed to enter pay-for-play agreements. 
Allowing college students to profit in this way is controversial and reverses the NCAA's longtime restrictions on students receiving such compensation.
"Some schools are still a little standoffish," says Tifani Sadek, clinical assistant professor of law and co-director of Michigan Law's Zell Entrepreneurship Clinic. "It can feel like paying players to play, which you're not supposed to do." 
However, the Zell clinic has been at the forefront of NIL work, helping U-M student-athletes understand the laws and start their own businesses.
"The clinic is here to help student-athlete entrepreneurs," says Sadek. "We look at them as entrepreneurs, and their business is themselves and their image."
I figured the work that we do at the clinic is parallel to a lot of the needs that the student-athletes were going to have. I wanted to get involved."

Andrew Watson, '23, was the first to suggest that the clinic should provide support to student-athletes.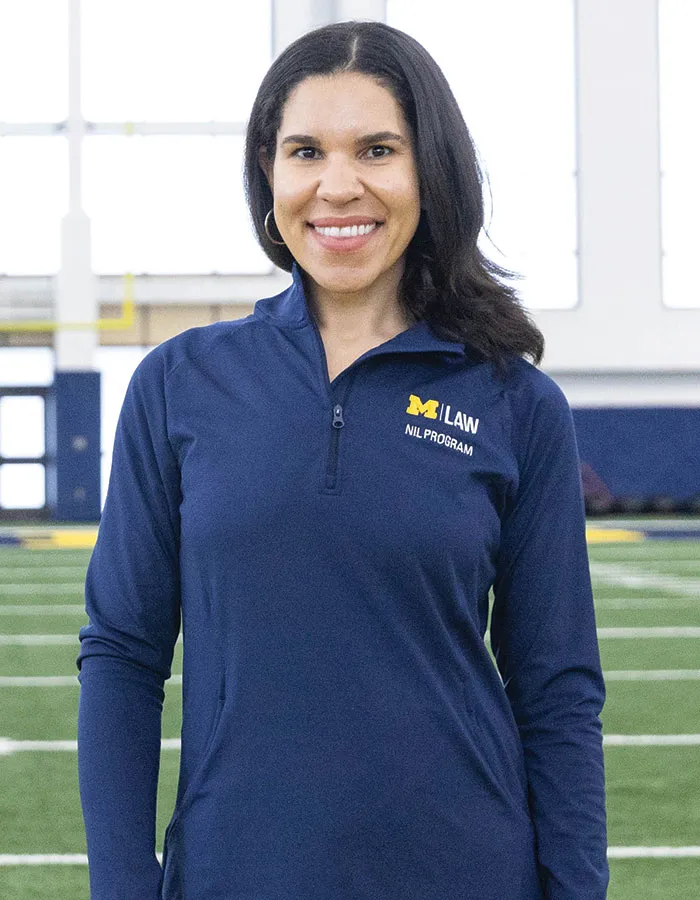 The Idea
NIL work at Michigan Law was the brainchild of Andrew Watson, '23, who pitched the idea to Sadek in October 2021, a few months after the Court's June decision. 
"I figured the work that we do at the clinic is parallel to a lot of the needs that the student-athletes were going to have," says Watson. "So I wanted to get involved."
What followed were meetings with U-M Athletics and the Office of General Counsel to discuss the clinic's plans and get the green light. All involved reasoned that the clinic, part of a top law school at a university with a top athletic program (and more than 900 student-athletes), is positioned to be a leader in the field.
Most of last year was spent setting up the fundamentals for NIL work, which really took off in fall 2022, when the Zell clinic partnered with Danielle Davison, U-M's newly arrived assistant athletic director for NCAA rules and NIL education compliance. She helped the clinic get in front of the athletes through a series of introductory meetings—an initial hurdle for the clinic.
Her work also complements the work of the clinic. While Davison can advise student-athletes on NCAA compliance issues, the clinic takes an active role in the legal issues involved in setting up a business. 
"I can't represent student-athletes like the Zell clinic can," says Davison. "So I review contracts to make sure nothing's going to impact our student-athletes' eligibility. But I also usually refer them to the Zell clinic."
By the Numbers
19
of

29
---
Varsity Teams Have Attended Informational Presentations Hosted by the Clinic
18
---
Student-Athletes Represented on Nine Varsity Teams
Statistics as of April 2023.
3
---
Cross-Sports Workshops
to educate student-athletes about contracts, personal taxes, and other matters, including one workshop in partnership with the Law School's Low Income Tax Payer Clinic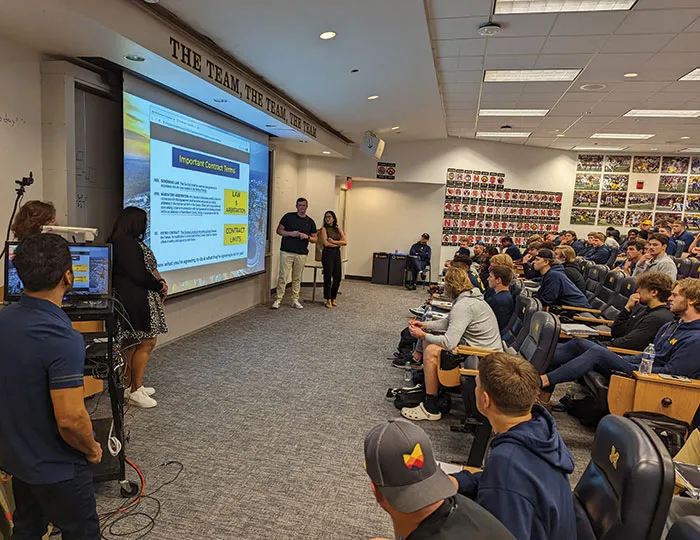 The Pitch
Last fall, in an Athletics Campus meeting room—whose walls were festooned with images of past football games and the iconic phrase "The Team, The Team, The Team"—Sadek, Watson, and Davison as well as 2L Emily Gaudiani introduced themselves to more than 100 football players and Coach Jim Harbaugh. 
The players had taken time from their already-busy schedules of classes, practices, and games to learn more about the NIL opportunities available to them and how the Zell clinic could help. It was just one of many presentations that the clinic has made to teams about NIL. 
"I think there are two angles, the tactical and the strategic," says Gaudiani—a dual degree MBA/JD student—about the clinic's services. The tactical angle involves reviewing contracts, helping set up an LLC, and advising when to seek help from another specialist, such as students in Michigan Law's Low Income Taxpayer Clinic, who have recently begun working on NIL issues.
"They're not necessarily reading the contracts or having somebody else look at them," says Gaudiani. "So a lot of what we've done so far from a tactical standpoint is explaining to them what the terms of the contract mean in plain language so that they are aware of what they're signing. 
"And then from a strategic angle, we've been doing a lot of education with the teams on what NIL means for them as an opportunity and what sort of knowledge they have to have in order to make the most of it." 
While NIL has presented a lot of opportunities for student-athletes, it has also presented some problems also. 
"They get approached by the third party who wants to partner with them, and the third party usually sends them the contract," says Sadek. "Not necessarily at Michigan, but you hear stories of athletes signing away future rights. We review everything and make sure that there are none of these hidden bombs. It just makes the student-athletes feel better to know someone has their back." 
Wojcik, initially cautious about NIL because she "didn't want to run into any trouble," is glad to have a trusted resource in the clinic. 
"I'll do an initial read of the contract and type up some notes of things that I notice. And then I'll email it to the clinic. I've been able to receive a really timely response but also a thorough analysis of the contract. They've made recommendations to add or take something out of the contract. And then I'm able to use their knowledge to inform my decisions moving forward about negotiating that deal."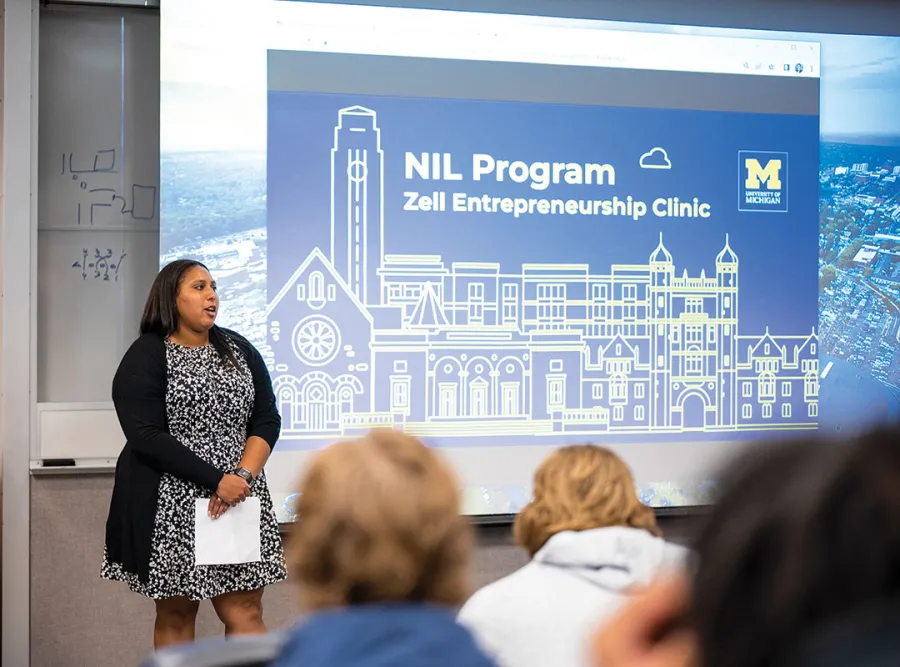 Danielle Davison (left), U-M's assistant athletic director for NCAA rules and NIL education compliance, along with Andrew Watson, '23, and JD/MBA student Emily Gaudiani (right) made presentations to several teams this past year to help them understand NIL opportunities and how the clinic could help.
We are working in this gray space. There's no black letter law that makes it easy to say, 'This is the answer.' So we have to use our judgment as lawyers and really issue spot. It's been a lot more complicated, but that makes it fun.

Tifani Sadek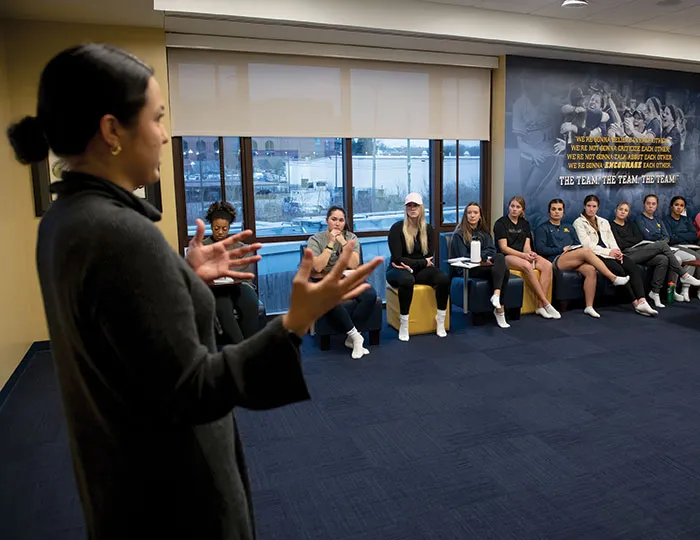 The Deals
The variety of deals that a student-athlete can make is limited only by their imagination. For example, a softball player can organize a summer camp or a tennis player can teach lessons, all using their name, image, and likeness.
"Probably the most common source of income I see is from social media endorsements," says Davison. Student-athletes use INFLCR, a content platform that also allows them to understand the value of each of their posts based on the number of followers they have and their interactions. According to Davison, U-M led the country in 2022 in transactions reported and had the largest local exchange (a network of businesses and individuals registered to engage in NIL deals) of all the INFLCR schools in the country.
"I will say with Gen Z, you see a lot of people wanting to be influencers. And so now we're seeing more student-athlete influencers. We've also seen a lot of paid appearances, autograph signing sessions, Cameo videos," Davison adds. Cameo is an app that allows people to pay athletes and celebrities to send personal messages to others.
"They really leave it up to you to be creative with what suits you best," says Wojcik of the clinic. "And they're just really supportive in that process."
Students also work with businesses like M Den on item sponsorship. In fact, many local businesses are big Michigan supporters and want to help students, says Davison. Toward that end, they can reach out via a platform called Victors Exchange, which currently has more than 165 businesses registered. 
"Once they're registered, they can use the technology that's available to message student-athletes directly," says Davison. "They can also disclose, which is required by state law, the deals on the platform. And they can pay student-athletes directly through the platform."
One area where student-athletes need to tread lightly is how they display the University marks, including the Block M. 
"They're always wearing their team gear," says Gaudiani, "so they need to make sure that they're staying on the right side of those rules."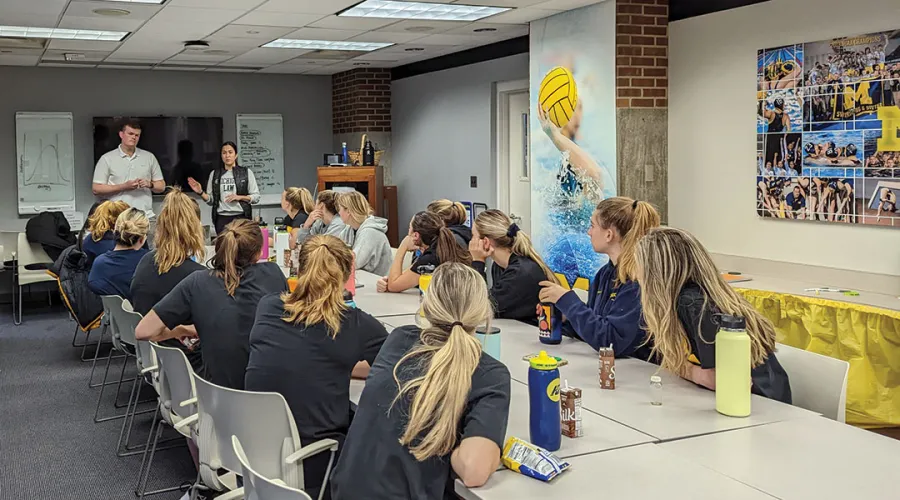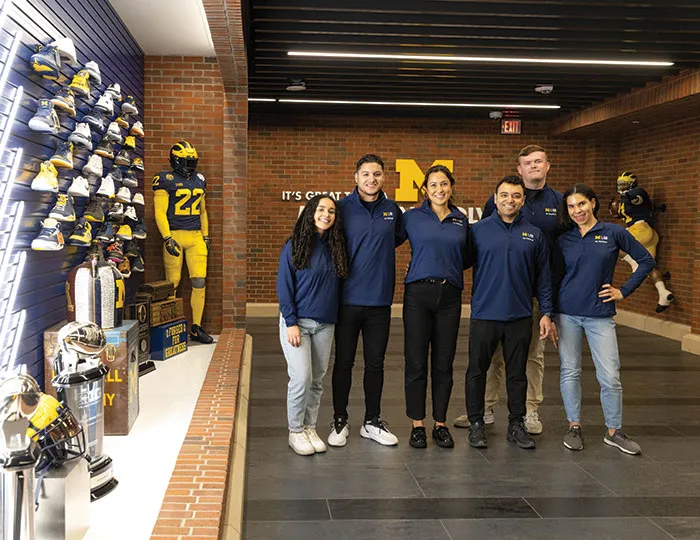 The Challenges
One challenge of the Zell team—which includes Giordano Silvaggi, '23, Santiago Diaz-Seijido, '23, and 2L Adriana López-Torres, who took the reins from Watson and Gaudiani during the winter term—is the fact that NIL laws are so new, with very few precedents. 
"We are working in this gray space," says Sadek. "There's no black letter law that makes it easy to say, 'This is the answer.' So we have to use our judgment as lawyers and really issue spot. It's been a lot more complicated, but that makes it fun."
The flip side to that challenge is knowing that they are on the cutting edge of a new area of the law. 
"There are not a lot of things in the legal world where you can be at the cutting edge," says Watson. "As a clinic, we probably have more knowledge than most people about NIL just because it's not that well known a subject."
Equity issues are also a concern. Since the inception of NIL, much attention has focused on major deals for highly visible athletes—usually male—in sports like football and basketball. However, Sadek says that the clinic must keep Title IX issues front of mind. 
"We want to make sure that we're servicing all of our teams equally."
Additionally, not all athletes will generate million dollar deals. 
"There are two ways to look at NIL," says Gaudiani. "There's the way that is big and flashy. And then there's the way that is less flashy but really important." She says that looking at NIL through an equity lens presents several questions: "How do we support female athletes? How do we support athletes who are in sports that are less 'big market'?"
She sees the Zell clinic being able to help answer those questions. 
"We've seen student-athletes who are able to capitalize on NIL because of their personality, their social media presence, their marketing savvy, or any number of things," she says. 
"We also have an opportunity to teach these students how to create value outside of their sport. We are trying to teach them what it means to be an entrepreneur and what it means to think critically about business strategy, branding, and how they can monetize skills."
In the few months since the clinic's NIL program began, the athletes are absorbing those lessons.
"I'm really grateful for the time that every member of the Zell clinic pours into helping student-athletes," says Wojcik. "We understand that they're very busy with their own studies, so the fact that they're willing to take time to support us and be a resource and provide education for us and be as accessible as they are is something that I'm really grateful for and something that has helped me a lot in my NIL journey."
Selected Services Provided by the Clinic
Cole Cabana, Football
Reviewed and counseled on several agreements, including an NIL deal with a summer sports camp
Hunter Dickinson, Basketball 
Reviewed agreements related to appearances at special events (Dickinson recently transferred to the University of Kansas)
Patrick Maloney, Tennis
Advised on an agreement for social media advertisements
Zack Marshall, Football
Counseled on an agreement with a marketing agency
Naomi Morrison, Gymnastics
Negotiated a contract for an appearance in a national sports apparel brand's commercial
Jill Smith, Lacrosse
Reviewed a sponsorship agreement for a lacrosse equipment company
Kaitlin "Keke" Tholl, Softball
Reviewed an NIL agreement for clothing products