Ginny and Peter Gustafson, '70, began their journey together when they met as dance partners in a U-M Winter Weekend student event at Hill Auditorium. Ginny was enrolled in the art and design program at U-M (now known as the Stamps School of Art and Design). Peter had started his studies at Allegheny College in western Pennsylvania and had subsequently transferred to U-M's College of Literature, Science, and the Arts (LSA).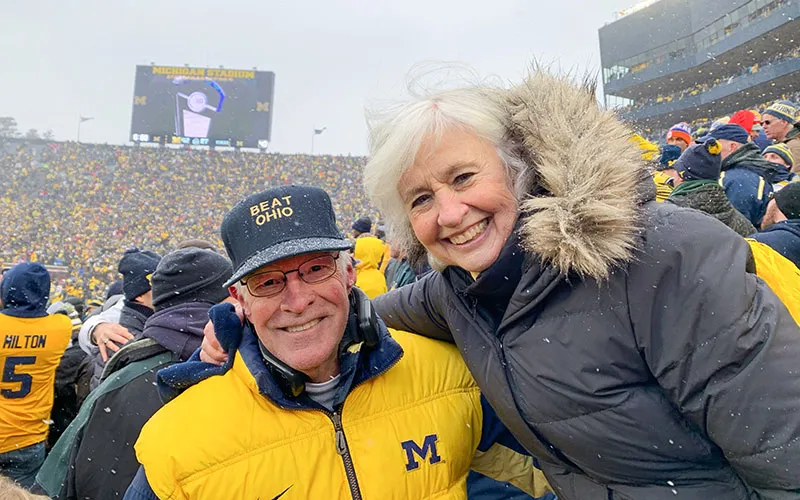 "After first meeting Pete, I went back and told my roommate that I was going to marry him, which is crazy because I can't even make a decision about what to order in a restaurant," says Ginny. "But this was just so easy for me. It's kind of surprising, but it was a great decision—and I still can't think of what to order in restaurants!"
Peter and Ginny were married shortly before he began law school, and Ginny took a job as a designer at an advertising agency while he pursued his JD. During his first semester, Peter had anxieties, like many students, about the challenges of law school classes.
"I was worried about falling short, especially studying among so many smart and inquisitive classmates. But somehow it all clicked, and being at the Law School was a wonderful opportunity with many eye-opening experiences," Peter says. "I was helped by a willingness to think broadly about other viewpoints, reinforced by my undergraduate education at LSA. I probably had a decent degree of common sense and logic as well, which law school sharpened."
"That has been your strength," Ginny agrees. "At the time I told him, 'Don't ever complain and make me nervous again about your ability to succeed.' He was concerned in the beginning, and I worried for him, but he ended up with excellent grades." 
Peter graduated from the Law School during the Vietnam War and then served as a Marine Corps judge advocate for four years before entering private practice. He and Ginny settled in a rural area near Grand Rapids, Michigan, on property they have since protected with a conservation easement. Peter spent most of his career focused on business litigation, and later alternative dispute resolution, at Warner Norcross+Judd LLP. He remains of counsel with the firm, retired from active practice.
Longtime supporters of their alma mater, the Gustafsons's most recent gift is directed to the elements of U-M where they feel the most connection: scholarship funds at the Law School, Stamps School, and LSA. They also support the Michigan Marching Band, which brings them great joy. "We owe a lot to our education, and it truly did shape our lives," says Peter. "It's important to set an example and give back to the school that did so much for us, and we want to encourage others to consider supporting the University to whatever extent they are able."
The Gustafsons visit campus as often as possible and have held season football tickets for more than 50 years. The couple's Ann Arbor roots run through the next generation: Their daughter and her family cheer for the maize and blue from their home on Long Island, and their daughter-in-law and son have owned Literati Bookstore—a community staple in downtown Ann Arbor—since 2012.
"Art, music, and the liberal studies are all foundational for an educated populace, which is essential to a free democracy," Peter notes. "The practice of law is especially important as well. Having a great law school advancing a functional, effective, and fair civil justice system to handle inevitable conflicts among people is crucial. We're proud that the University of Michigan is one of the great public universities in the world, and we'd like to help keep it that way."