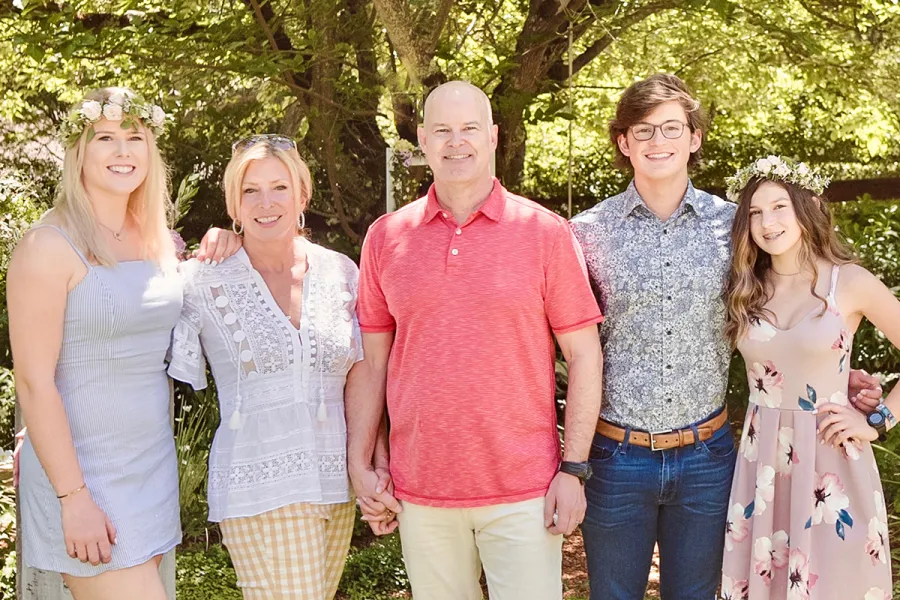 Most private equity executives start out in banking, finance, or business law, accruing contacts and know-how that they use to support the growth of emerging companies or stabilize promising but struggling businesses. 
For David Breach, '94, that's mostly true. 
But if you unfurl his resume and squint somewhere near the bottom, there is work experience you won't see on the curriculum vitae of most private equity titans: six years spent selling meat products and bottled juice in southeastern Michigan while an unfinished undergraduate degree burned a hole in his pocket.  
Breach, the chief operating officer and chief legal officer at Vista Equity Partners, was born in a suburb of Toronto, Canada, and moved to Michigan in his teens with his parents and two brothers. 
He didn't grow up in an academically oriented household—neither of his parents graduated from high school—but hard work was a core family value, and he had a front row seat to his father's rise from a butcher by trade to a regional vice president at a national supermarket chain. 
After graduating high school at 16, Breach enrolled at Eastern Michigan University to pursue a business degree with a concentration in sales and marketing. But like many first-generation college students, he couldn't afford to wait until after graduation to start working.
"The family business, so to speak, was to work in the food industry, and my dad helped me get my first job as a retail salesperson," says Breach. "I was this teenage kid talking to butchers while they're slicing meat, and I'm trying not to get my sport coat splattered with blood. It was really a great experience for me."
Over time, Breach found himself more focused on career success than academic accolades, and eventually took a full-time job in food sales, shifting his academic schedule to night classes. 
"At the ripe old age of 19, I was given an opportunity to be a sales rep with a real salary and a company car, and I thought it was the greatest thing in the world," says Breach. "I did that for five or six years but eventually started to think about a different life for myself. As a young kid, I'd always said I wanted to be a lawyer because I thought, 'Lawyers are people who talk a lot, and they make a lot of money.' I had learned how to be good at talking, but I wasn't making a lot of money. I realized that in order to do that, I needed to finish my degree."
Four credits shy of receiving his undergraduate degree, Breach was able to satisfy the requirement with co-op credit from his work experience. He enrolled at Detroit College of Law on the advice of the only lawyer he knew—a staff lawyer at the juice company—and for the first time found himself engrossed in academic studies. After two semesters of straight As, Breach transferred to the University of Michigan Law School.
"As a transfer student, you don't come in with any sort of entitlement mentality—you're just grateful for the opportunity," says Breach. "I remember when we did fall recruiting, at Detroit College of Law there were maybe 15 firms that would visit students. At Michigan Law, there were hundreds, and I could look at Atlanta, New York, Chicago, anywhere. It was amazing to me to have all this opportunity."
Breach graduated from Michigan Law as a member of the Order of the Coif, and within days started at Honigman Miller in Detroit while studying for the bar at night. He threw himself into the job and worked on a little bit of everything in the world of corporate law but quickly gravitated toward representing private equity firms, drawn by the industry's fast pace and higher risk tolerance compared to the average corporate client. After five years with Honigman Miller, Breach joined the private equity practice at Kirkland & Ellis in Chicago.
After a few years in Chicago, he was recruited to be one of the founding partners of a new Kirkland office in San Francisco. Breach knew there was some level of risk—the early 2000s internet bubble had recently burst, for one thing—but he believed that Kirkland's private equity expertise would meet an unmet need in the Bay Area, where most large law firms specialized in venture capital and technology. 
That premise was borne out by early and sustained growth. By the early 2010s, the office comprised more than 150 lawyers, and Breach had brought in a dozen or so new clients and joined the firm's global executive committee.
"I was probably one of the happiest lawyers around," says Breach. "I worked with my partners to build a strong team and a good office, and I loved my clients. But then I got the proverbial offer I couldn't refuse."
In 2014, Breach received an unexpected call from Robert Smith, the founder and chief executive of Vista Equity Partners—an investment firm that had been a client since the early days of the Kirkland office in San Francisco. Smith asked him to help manage the next chapter of Vista's growth as chief operating officer and chief legal officer of the firm. 
"It forced me to rethink the next phase of my life, because leaving Kirkland was not something I was considering—but I came to believe it was going to give me a new set of experiences that I probably wouldn't be able to get even as a very senior partner at Kirkland," says Breach. "The last six years have more than lived up to what I'd hoped for. When I think about how you only get to go around once, I want it to be interesting and challenging, and joining Vista has just been another way to express that."
Pursuing the next challenge is something of a family trait, and Breach cites his mom, Marie, as an inspiration. Although Marie never received her high school diploma, she earned a GED in her 50s and became a tutor through the continuing education department in Plymouth, Michigan, for more than 15 years. 
Growing up, that spirit of community could be seen in his parent's generosity with their immediate family and neighbors, and that commitment to helping others influenced Breach's turn to philanthropy in his own adult life.
"My parents were the type to give you the shirt off their back, but philanthropy was not a cornerstone of our household growing up because they were just trying to get their kids through college," says Breach. "Once I knew I could take care of my family's necessities, I started to think more about creating opportunities for those who are disadvantaged, in particular educationally, because I've seen firsthand how a better education can fundamentally change your trajectory in life."
Breach recently made a $5 million gift to permanently endow the David A. Breach Deanship at Michigan Law, creating a discretionary fund for the dean to use toward initiatives that advance the Law School's mission. 
In 2017, Breach and his wife established the David A. and Emily A. Breach Law School Scholarship Fund—a $1 million need-based scholarship that gives preference to students from socioeconomically disadvantaged backgrounds or those who already have student loans. 
He also contributed $100,000 to a Law School building project in 2010, participating in a collective gift of over $4,000,000 from Michigan Law alumni partners and retirees at Kirkland; their gift is now recognized in the Quad as the Kirkland & Ellis Cafe.
"Being admitted to the University of Michigan Law School was a real inflection point in my life and opened me to a world that I frankly didn't know existed and wouldn't have had access to otherwise," says Breach. "I've always worked hard to embrace every opportunity, and I'm blessed with an incredibly supportive wife and family who have been on this journey with me."