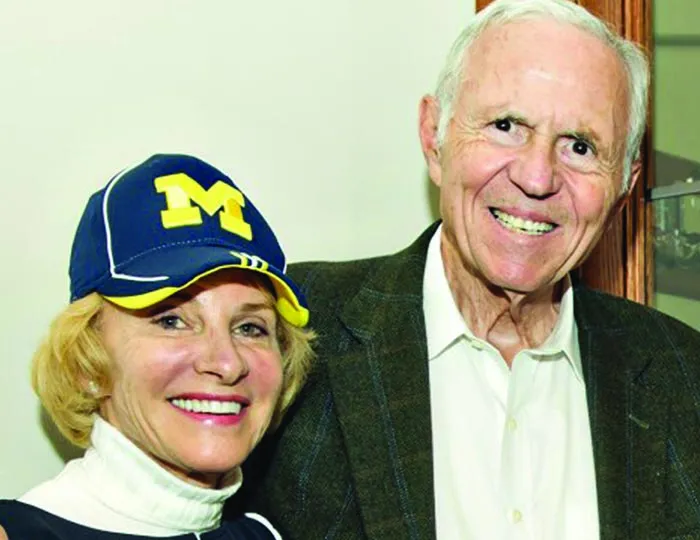 Few alumni can claim to have given as generously to so many different aspects of the Law School as John Nickoll, '60. In previous campaigns, he made seven-figure gifts to endow a professorship and to support the South Hall building project, and he also is a generous supporter of the Law School Fund. Now, during the Victors for Michigan campaign, he is helping to ensure that the best of the best students will have the opportunity to learn from those esteemed professors, in the remarkable physical campus he helped build.
Nickoll and his wife, Patty, of Los Angeles, have made a $1 million gift to the Law School to endow a Darrow Scholarship—which is given to a very select group of Michigan Law's most accomplished admitted students and can cover as much as full tuition plus a stipend. It was the opportunity to help recruit such outstanding students that convinced Nickoll to make the gift. "A prestigious scholarship like a Darrow can allow the Law School to attract top talent. We want those kinds of students to pick Michigan over other law schools," says Nickoll.
As a longtime volunteer and donor, Nickoll has had the chance to meet many Michigan Law students, and he remains inspired by their credentials as well as their diverse aspirations. "Today's students are much broader focused than my classmates and I were. Almost all of us wanted to be lawyers, but today's students look at doing a lot of different things. I am impressed with that," he says, noting that he has given talks at the Law School about the advantages of having a law degree in the business world.
Nickoll knows those advantages well, since his own career deviated early on from the traditional lawyering path. Although his first job out of Law School was as in-house counsel for a Milwaukee-based company, within a decade he had made the leap from the courtroom to the boardroom— and never looked back. Nickoll cofounded, and served as chairman and chief executive officer of, The Foothill Group Inc., a financial services company that focused on asset-based commercial lending and money management services. The company later was acquired by Norwest, which eventually merged with Wells Fargo & Co. When Nickoll retired in 2006, Wells Fargo Foothill was the nation's largest bank-owned asset-based lender.
"I just felt I was better geared toward running a business than practicing law," Nickoll says. But his legal training gave him some distinct advantages. "Law School is a great discipline for the mind. And I was never intimidated as a business executive, because I understood the legal aspects of my company."
In addition to the academics, Nickoll appreciated the entire Law School experience—from living in the Lawyers Club and attending football games, to the beauty of the Quad. "I don't think there's any better law school in the country than Michigan, when you consider how the campus is joined together. It's a very special place," he says.
Since state support for the University has diminished greatly in recent decades, Nickoll feels that alumni have a responsibility to keep all that makes Michigan special accessible to deserving students. "People should be cognizant of the fact that Michigan is much more like a private school than a public school," he says. "We all benefitted from the education we received at Michigan and the leadership of the faculty. It created a lot of opportunities for us, and giving back provides a lot of personal satisfaction."—AS