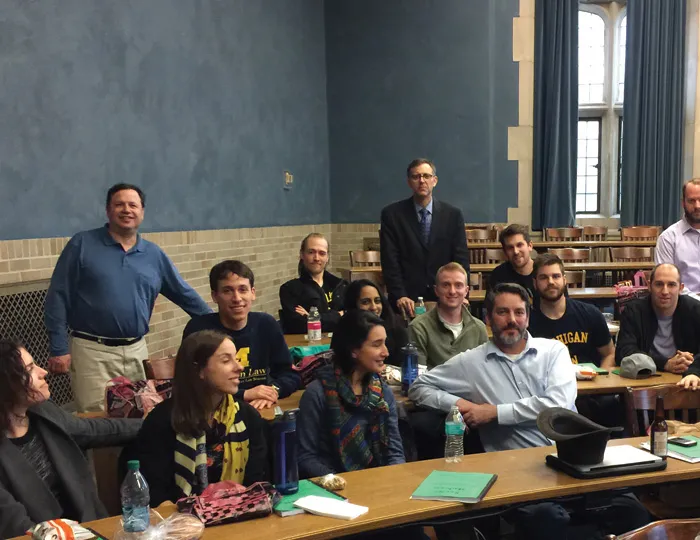 When a mini-seminar on marijuana law is offered at the Law School, you can bet that a showing of the campy cautionary tale Reefer Madness will be used as a learning tool. 
What you might not expect is a syllabus that includes both marijuana court cases and a ranking of the top 25 pot songs of all time.
For seminar creators Mark Osbeck, '86, and Howard Bromberg, a study of the legislation governing marijuana possession and use goes hand-in-hand with a discussion of marijuana's influence on American culture—at least in Ann Arbor, a city that has been at the forefront of the marijuana debate since the 1960s. 
The mini-seminar, Reefer Madness: The Evolving Landscape of Marijuana Laws, is one of only a handful of marijuana law courses taught for the first time at law schools during the winter 2015 semester, according to Osbeck and Bromberg, clinical assistant professors in the Legal Practice Program.
Osbeck, a part-time resident of Colorado, came up with the idea for the seminar while following an effort in the state to legalize recreational marijuana use, which was approved by voters in 2012. He enlisted Bromberg to co-teach the seminar, given his significant prosecutorial experience as a former assistant district attorney in New York County.
The mini-seminar wasn't intended to take a position on the legalization of marijuana, the professors note; rather, the goal was to open a dialogue about the myriad legal issues that marijuana decriminalization raises. 
"The seminar has been a scholarly odyssey for Mark and me," Bromberg says. "We both like questions of constitutional law, and something we didn't know before the seminar was how profound the jurisdictional and constitutional questions are with marijuana law—not in terms of should we legalize marijuana, but in terms of the relationship between states and the federal government, and what laws go with different sovereign powers and what laws conflict. Marijuana law raises a lot of interesting issues."
Discussion topics included the history of marijuana regulation in the United States; a comparison between marijuana regulation in the United States and other countries; the regulatory differences in states allowing medical marijuana use versus those allowing recreational marijuana use; the role of the executive branch in deciding how to enforce federal drug laws pertaining to marijuana use; whether local municipalities have a valid legal basis for decriminalizing marijuana use when state laws criminalize it; civil and criminal issues that arise from efforts to legalize marijuana; and the recent lawsuit filed by Nebraska and Oklahoma aimed at stopping Colorado's legalization of recreational marijuana use.
To provide students with practical examples of how marijuana law plays out in the real world, the professors brought in guest speakers to discuss their experiences: State Representative Jeff Irwin, an advocate for decriminalizing marijuana use in Michigan; criminal defense lawyer Michael Komorn of Southfield, Michigan, who specializes in marijuana law cases; and political activist and longtime marijuana proponent John Sinclair, who was sentenced to nearly 10 years in prison (of which he served two and a half years) for selling two marijuana joints to an undercover police officer in Detroit in 1967. Sinclair's conviction sparked a "Free John Now" concert headlined by John Lennon, and led to the Michigan Supreme Court overturning his conviction and declaring the existing marijuana law unconstitutional in 1972, the same year that Ann Arbor decriminalized marijuana use.
Currently, four states—Colorado, Washington, Oregon, and Alaska, along with the District of Columbia—have legalized recreational marijuana use. Approximately half the states—Michigan included—have legalized medical marijuana use. Bromberg and Osbeck believe marijuana legalization efforts will continue to gain momentum, with more states eventually passing legislation to approve either medical or recreational marijuana use, or both. As the 2016 elections draw nearer, they wouldn't be surprised if the marijuana debate becomes an important issue to voters. 
"It's one of the few issues these days that doesn't divide strictly along party lines," Osbeck says.
The two have no definite plans to teach Reefer Madness again, but their experience has prompted them to write several articles about incorporating marijuana law into the legal curriculum, something they both favor, as well as a book about marijuana law for West Publishing's Nutshell Series. 
"Marijuana law is becoming a big part of our legal system," Bromberg says. "It's current, it's tense, it's pervasive, and so it should be taught, either as part of other courses, such as criminal law, or as a standalone course. It raises so many social, constitutional, and jurisdictional questions on its own, that it could easily be incorporated into skills classes and moot courts."
"It's a way to address legal issues within an interesting context," Osbeck adds. "Students are very interested in the topic, and, like gay marriage, it's a quickly changing area of law."