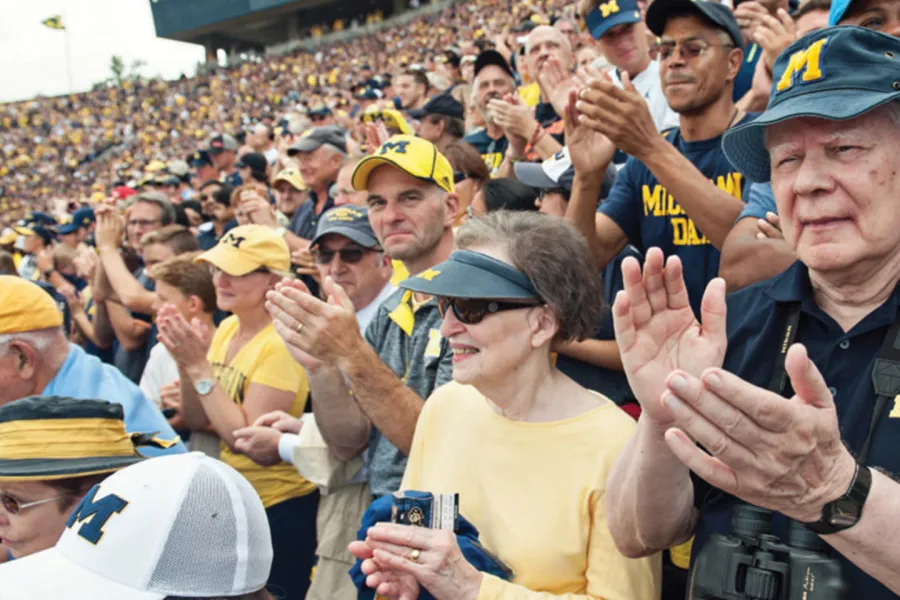 "This is our legacy…and our future," announces the booming voice of Darth Vader during a hype video before the Michigan-Colorado game. As 110,000 fans settle into their seats, the narration of James Earl Jones, BA '55, HLHD '71, signals that the game is about to begin.
On this day, a muggy September afternoon, Colorado gets off to a strong start with two quick touchdowns. Professor Emeritus Tom Kauper, '60, sitting in Section 22, shakes his head in frustration. A couple of seats away, Professor Emeritus Jerry Israel's son Dan Israel, '93, yells over the din of the crowd that Michigan needs a solid punt return to put things back on track.
Something even better happens: Michigan blocks the Colorado kick, and, after a manic hot-potato sequence, runs in for a score. Behind Israel and Kauper, Professors Adam Pritchard and Joan Larsen (a married couple) high-five each other and kiss.
Some version of this scene has played out in the Big House for several decades. Faculty members from the Law School long have sat together in Section 22, basking in the strong seasons and grousing together during the lean years. The names are legendary in Hutchins Hall: Bill Bishop, Olin Browder, Paul Carrington, Sam Estep, Bill Pierce. Allan Smith, whose seats later went to Israel. Yale Kamisar, who transferred his seats to Pritchard and Larsen. These days, Israel, Kauper, Pritchard, Larsen (a state Supreme Court justice and adjunct professor), and Larry Waggoner, '63, sit in a cluster, while Doug Kahn and J.J. White, '62, sit farther back in the section.
And it's not just the faculty members and their spouses in these seats. There is a long history of prominent alumni and other guests joining them, and of kids and grandkids turning into the next generation of Wolverine superfans. Israel's and Kauper's children often attended games together, and maintain friendships to this day. Even the relatively new faculty in the section are passing the love of the game down to their children, who often sit with them at games. "Shirley and Tom [Kauper] bought my daughter her first Michigan cheerleading outfit when she was a baby," says Pritchard, the Frances and George Skestos Professor of Law. "She's 16 now."
The faculty members' children play a vital role at the games. "We always needed a source of quick information—who is number 22, where does he come from (questions primarily asked about some non-starter who gets into the game in the fourth quarter)," says Israel, the Alene and Allan F. Smith Professor of Law Emeritus. "For many years, my son, who started attending at age 7, was that source. Then it became my grandsons, and as the last one will be off to college next year, I anticipate Adam and Joan's son will take on that role."
To borrow from the James Earl Jones narration before the game, section 22 is our legacy … and our future.
Glory Days
Tom Kauper still remembers his first games at Michigan Stadium. He didn't have the good 35-yard-line seats that he has today; actually, he didn't have any seats at all.
"I've been going since 1946," says Kauper, the Henry M. Butzel Professor of Law Emeritus. "I started as a kid going over the fence. Or I'd sneak in with the band." He especially loved watching the undefeated 1947 team, known as the "Mad Magicians" for its single-wing formation that baffled opponents.
As he grew older, his love of the game and Michigan Stadium grew. As a high school student, he attended the annual Band Days, when as many as 100 high school bands would perform under the direction of William Revelli and George Cavender. Then, as an undergrad, he performed in the Michigan Marching Band—and he returned the favor once paid to him by allowing kids to sneak in with the band.
In 1964, when he joined the faculty, it was only natural that Kauper would get football tickets. That he could sit with his new colleagues (and near his father, Professor Paul Kauper) was an added bonus.
One of the highlights of those early years was the faculty potluck that was held after early games and before the (rare) late games. "People went home after the game and put on suits for the potluck, if you can believe it," says Waggoner, the Lewis M. Simes Professor of Law Emeritus.
In some ways, those were the glory days. "When I first got here, everybody was going to football games," Israel recalls. Faculty members and their families bonded over their love of the game—or, in some cases, their love of being with this group of people in spite of the game. Doug Kahn's wife, Mary, brought her knitting to many games. Ted St. Antoine's wife, Lloyd, solved her crosswords.
Aside from the camaraderie, though, the mid-century games presented some challenges for the law faculty and other fans. "I got here when Bump Elliott was still the coach. We had some good teams, and we had some bad teams," Israel says. One particularly bad year was 1962, when Michigan finished with a dismal 2-7 record.
Those years, says Kauper, explain the pessimism that he vocalizes during the games. "You can't have sat through the Bump Elliott era," he says, "and be an eternal optimist."
As the quality of football improved through the years, particularly during Bo Schembechler's tenure as coach, the stadium grew more and more crowded. Waggoner vividly remembers Anthony Carter's last-second touchdown catch in 1979 for a win over Indiana. He also recalls that Kamisar left early that day to beat traffic and wasn't in his seat to see one of the great moments in Michigan Football history. "He now claims, however, that he saw the pass from the top of the aisle as he was leaving," Waggoner says.
The Lloyd Carr years bring back generally good memories for the group, but they don't have much good to say about the Rich Rodriguez or Brady Hoke eras. "I didn't go to any of the games during Hoke's last year," says Waggoner (who, incidentally, now lives in a condo formerly owned by Schembechler).
Israel has only missed one season since he started attending games. Unfortunately, it was the 1997 season, when he was living in Florida—and when Michigan was the co-national champion. "It's OK. I got to see plenty of Big Ten Championships," Israel says. "Aside from that season, I've only missed a half-dozen games."
The occupants of some of these seats have changed through the years, and they are likely to change again, possibly by next season. After struggling with the crushing crowds and with walking up and down the steps, Kauper and his wife think they may have attended their final Michigan game. "Of course I'll miss it," he says of being in the stadium. "It's a big, colorful spectacle." They will watch the games at home, and Tom may even yell at the TV from time to time. But his colleagues in Section 22 will miss them, as they still miss all the other faculty who have come and gone from these seats.
"It just won't be the same. If I don't have Tom complaining, I don't know what I'll do," Pritchard says. "I don't even want to contemplate it."