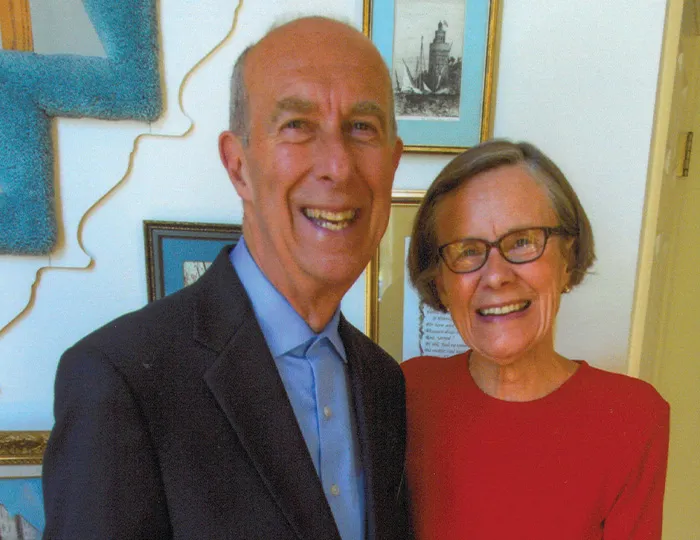 Michael Harrison, '66, has a deep-rooted sense of fairness. His grandfather, Glenwood Fuller, LLB 1913, always said women and people of color should have the same rights as white men. "He was ahead of his time," Harrison says of the former Kent County (Michigan) Circuit Court judge. Harrison's mother proudly told how she walked with an African American student on her college campus in an era when that just wasn't done.
Throughout Harrison's career, those values stuck with him. "My husband truly believes in equality for all," says his wife, Deborah. "He has seen how equal opportunity has empowered so many people."
Harrison is especially passionate about equal opportunity in education. He and Deborah recently endowed a fund at the Law School to support its Program in Race, Law & History. The Michael and Deborah Harrison Fund will assist students pursuing yearlong research projects related to the intersection of race, law, and history by providing travel costs to symposia and conferences, as well as research-related expenses. The Harrisons also have endowed a scholarship fund for minority students at Albion College, Michael's undergraduate alma mater.
"We know how having access to a quality education can change someone's life. And those who are in a position to help others gain that access, should do so," Harrison says.
Harrison served as a judge of the 30th Judicial Circuit of Michigan (Ingham County) for nearly 25 years, and was chief judge for almost half of his tenure. Later, as an arbitrator and mediator, he was widely known for his belief in the power of alternative dispute resolution. Seeking common ground, however, was not just a professional exercise. Harrison is a past president of the Greater Lansing Urban League and was honored by Michigan State University for rallying local attorneys to support Libyan students who risked losing visas in the wake of 2011's Arab Spring. Earlier in his career, Harrison campaigned for Mary Sharp, '39, who championed open housing laws as a member of the East Lansing City Council. He later spearheaded the effort to create a public sculpture in her honor. "Racial issues are social issues," he says, "and education is the key to solving so many of our problems."
The Program in Race, Law & History was created in 2011 to help students and faculty rethink the role of race at the Law School in the wake of Proposal 2, which was passed by the state's voters in 2006 and banned the consideration of race and gender as admissions factors at public universities. The Program in Race, Law & History continues the Law School's commitment to social justice and racial equality by "making race a part of the everyday conversation," says Martha Jones, co-director of the program and Presidential Bicentennial Professor. "Students take away a much deeper and informed capacity to become leaders in the law."
"We believe that when you feel strongly about something, you should do what you can to help," says Harrison. "Supporting diversity at the Law School is important to us, so it is an honor to make this gift and hopefully make Michigan even more inviting."
The honor lies with the program, stresses Jones. "I can't think of a more meaningful endorsement than to have a distinguished alumnus like Judge Harrison support our work. This gift means we can continue to think about what's next for the Program in Race, Law & History and continue moving forward from Proposal 2."—AS