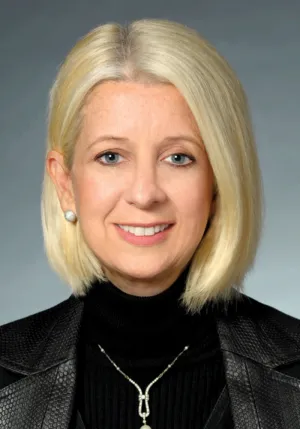 When Hewlett-Packard found itself in a multibillion-dollar contract dispute, HP General Counsel John Schultz decided that the case called for a team with "an all-star at every position." When the case finally went to a jury trial in May and June this year, HP's all-star team included 1983 Law School classmates Camille Olson, of Seyfarth Shaw LLP, and Mark Ferguson, of Bartlit Beck Herman Palenchar & Scott LLP.
Both Olson and Ferguson had long represented HP in other matters, but they had not worked together previously. 
"Other than a reunion or two, I don't think Camille and I had seen each other since law school," says Ferguson. "It was great to work with her in such an enjoyable and successful collaboration, and I think we'll both look for other opportunities to work together again."
Olson shares the sentiment: "The trial was special in many ways—and working with Mark was a highlight. It's rare for any of us to have the opportunity to be trial teammates with our law school colleagues. Mark's trial work was exceptional, ensuring that the entire trial team had the benefit of his unique insights into both our case as well as our opponent's. Like Mark, I'm hopeful this was the first of a number of winning trial teams we'll be on together."
Olson has been with Seyfarth Shaw since 1986, and splits time between the firm's Los Angeles and Chicago offices. Although she represented HP as plaintiff in its case against Oracle Corporation, cross-examining software engineers and other techies, her usual focus is defending class action and other employment law litigation.
Ferguson was one of the founding partners of Bartlit Beck, working in the firm's Chicago office. His practice focuses on a wide range of complex commercial litigation matters, with an emphasis on technology.
Olson and Ferguson, together with lawyers from Gibson Dunn & Crutcher LLP and Choate Hall & Stewart LLP, tried the case over six weeks and won a jury verdict of $3.014 billion in the Superior Court of Santa Clara County, in San Jose, California. In addition to Olson and Ferguson on the outside counsel side, HP's in-house litigation manager on the case was Patti Kim, '00.
The dispute, which had been pending since 2011, involved a contract under which Oracle agreed to continue developing software for HP's Itanium processor-based line of mission critical servers. 
In March 2011, Oracle announced that it intended to cease all such software development, leading HP to eventually sue for breach of the contract as well as of the covenant of good faith and fair dealing. 
After the trial was bifurcated, and following a first-phase HP win on contract interpretation and an unsuccessful interlocutory appeal by Oracle, the jury trial focused on the issue of breach and damages. 
The verdict reflected a complete victory for HP.