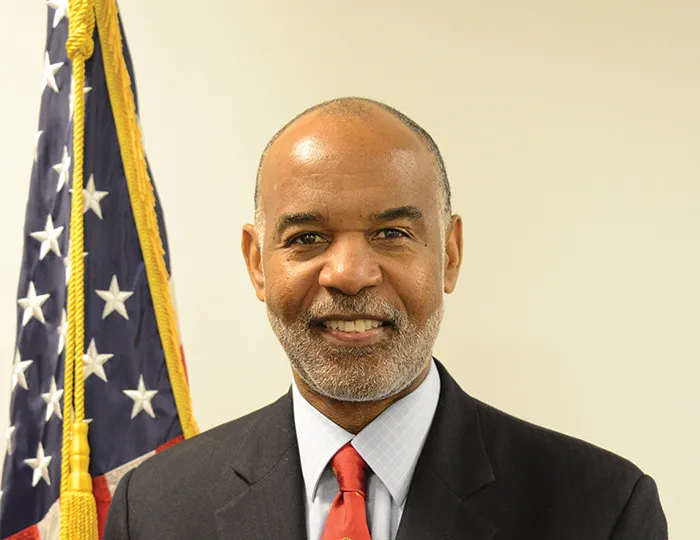 When teachers bring their students to visit Judge Roger Gregory's chambers in Richmond, Virginia, he lets the students sit in the judge's chair "to see what they might become," he says. Those students also have the opportunity to see how far Gregory has risen—recently to the position of chief judge of the U.S. Court of Appeals for the Fourth Circuit—in a building that was constructed three years before the start of the Civil War and that housed one of the offices of the president of the Confederacy.
"The historical significance is not lost on me," says Gregory, '78. "Who would've thought that this little boy from Petersburg [Virginia] would be the first African American on this court, and its first African American chief judge?
"It's not about me. It's about so many people who came before me, about the people for whom 'hope unborn had died,'" he says, referring to the lyrics of Lift Every Voice, considered the Black American national anthem. "If I ever see the ghost of Jefferson Davis walking around the courthouse, perhaps we'll talk about how much America has changed."
Judge Gregory has played a significant role in that changing America. He began his career as an associate in the Detroit office of Butzel Long PC and in the Richmond firm of Hunton & Williams LLP. 
In 1982, he formed the law firm of Wilder & Gregory, alongside L. Douglas Wilder, who later served as governor of Virginia. Then, in 2000, President Bill Clinton nominated Gregory to a seat on the Fourth Circuit. The Senate declined to take up the nomination, so Clinton appointed him during a congressional recess.
"It is unconscionable that the Fourth Circuit has never had an African American appellate judge," President Clinton said during an Oval Office ceremony. "It is long past time to right that wrong. Justice may be blind, but we all know that diversity in the courts, as in all aspects of society, sharpens our vision and makes us a stronger nation."
Newly elected President George W. Bush then renominated Gregory for the same position in 2001, and he was confirmed on a near-unanimous vote in the Senate. He never planned on becoming a judge, he says, but "I was pulled along by the rope of destiny, a rope that was woven by the generations before me and stained with their blood, sweat, and tears."
Now, as chief judge, he leads the court's 14 other judges and two senior judges. He also has taken on immense administrative duties for the circuit, which includes Maryland, North Carolina, South Carolina, Virginia, and West Virginia. Additionally, he chairs the circuit's judicial council and has administrative responsibilities for the 160 judges in the other federal courts throughout the five states.
His education at Michigan Law formed a solid basis for his career as an attorney and a judge, Gregory says. He cites Professors L. Hart Wright, Yale Kamisar, John Reed, and J.J. White among those who influenced him the most. 
Still, after starting his own small practice in Virginia, he learned that the University of Michigan Law School didn't yet carry the same cachet with some of his clients. But he was always happy to have the opportunity to prove his skill and value to those clients, he says. "Michigan taught me that. It isn't about your rootage, it's about your fruitage."
Gregory also credits much of his success to his parents, who adopted him. "I was born with asthma. I had some scars and rickety legs. Who would've picked me? My parents must have answered in their heart, 'We'll take him,'" he says. 
Both workers in a tobacco factory, his parents had little formal education but taught their son a great deal about faith, humility, common sense, and a strong work ethic, and he thinks they would be pleased by his success. 
"They got up early," he says, "so I could have more time to dream."