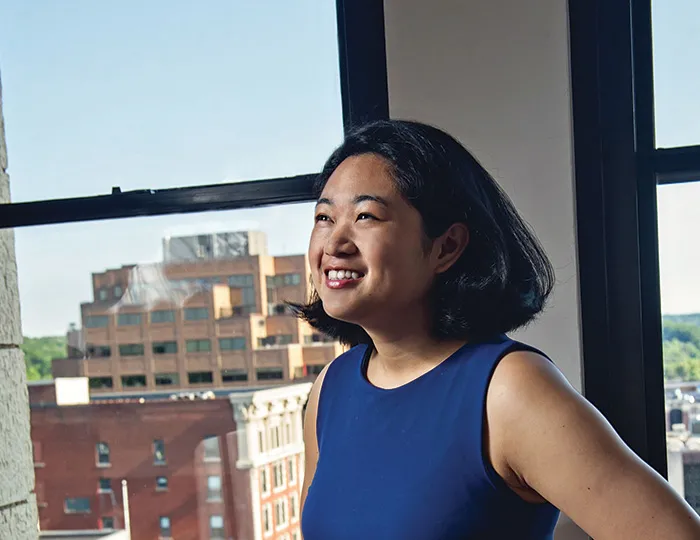 A company called SkySpecs needed venture capital to get its drone business off the ground. The software the company created would allow drones to be used to inspect infrastructure that can be dangerous for humans—such as the blades of 200-foot-tall wind turbines.
SkySpecs began working with Venture Investors, a venture capital firm with offices in Ann Arbor and Madison, Wisconsin, that focuses on identifying and commercializing technologies that emerge from top research institutions. One of the people who worked on the investment was Sabrina Hadinoto, '15, an associate at Venture Investors who identifies and analyzes prospective investments.
Though Hadinoto is still in the early stages of her career, she was well prepared for her work at Venture Investors. 
At Michigan Law, she was a student in the Zell Entrepreneurship and Law (ZEAL) Venture Capital Lab, which offers students the opportunity to work on investment deals. They conduct market research, write investment memos, and sit in on investment calls and meetings, with the goal of aiding the venture capitalists at Detroit Innovate and Mercury Fund with their investment decisions.
"I got a lot of exposure to deal work through the program, analyzing different companies' business plans," Hadinoto says. "It gave me the building blocks to get to where I am now, and helped me get exposure to the investment and startup community here in Ann Arbor and in Detroit."
The Venture Capital Lab was created at the suggestion of Adrian Ohmer, '13, a principal at Detroit Innovate, who wished that similar hands-on venture capital experience was available to him as a law student. He mentioned his idea to Adrian Fortino, BSME '00, MBA '10, with whom he was working at the time. They approached Pilz about the opportunity, and now serve as mentors for the students.
"The bread and butter is that law students actually function as venture capitalists in assessing potential investments for the funds," says Clinical Assistant Professor Bryce Pilz, '00, who initially oversaw the Law School's involvement in the lab, which launched in 2014. "They review pitch decks and financial documents, and they meet with the entrepreneurs to learn more about their businesses. Along the way, we make sure the students learn the nuts and bolts of venture capital deals, how venture funds work, and startup business basics. Like our other experiential education programs at U-M, they are learning the most from their actual work."
Hadinoto's time in the lab provided her with experience and helped her build her network in the entrepreneurial ecosystem. 
In her position at Venture Investors, she has had the opportunity to work with companies in a variety of sectors, including health care. 
Venture Investors recently invested in a Wisconsin-based company called Elucent Medical, a deal on which Hadinoto assisted. The company has developed a wireless breast tag and detection system that helps surgeons locate breast abnormalities and identify margins during surgical excision, eliminating an invasive hook-wire procedure. 
"The variety of companies I get to work with is one of the best parts of this job," she says, "from a company that is revolutionizing how drones can be used to keep people from being in danger, to a company that could make a tremendous difference in the lives of people who have breast cancer."
Hadinoto, also a fellow with the Michigan Venture Capital Association, hopes her current work will help to propel her career to the next level. 
"In 10 years, I hope to leverage the skills I've learned from my mentors to start my own venture capital fund."