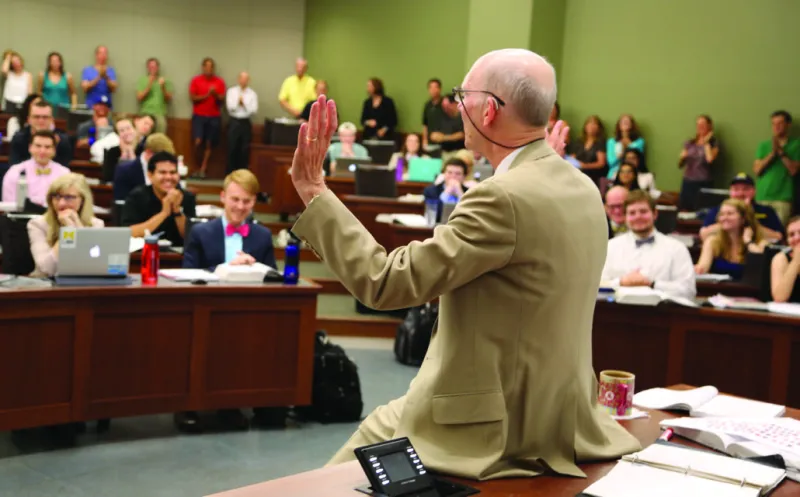 Clap-Out for Cooper
Colleagues and students honored Edward Cooper, the Thomas M. Cooley Professor of Law, with the traditional Michigan Law clap-out during his last class on August 11. "The man who put the 'pro' in Civ Pro!" raved one alum who read about the final class on the Michigan Law Alumni and Friends Facebook page. "Thank you Professor Cooper! Still remember (and use!) your teachings 30 years later!" wrote another.
---
"This facile assumption that more antitrust means greater equality and wealth is just way overbroad."

Daniel Crane, Frederick Paul Furth Sr. Professor of Law and an expert on antitrust law. The article from which the quote was taken was cited in a New York Times story that referenced analyses linking market power and inequality.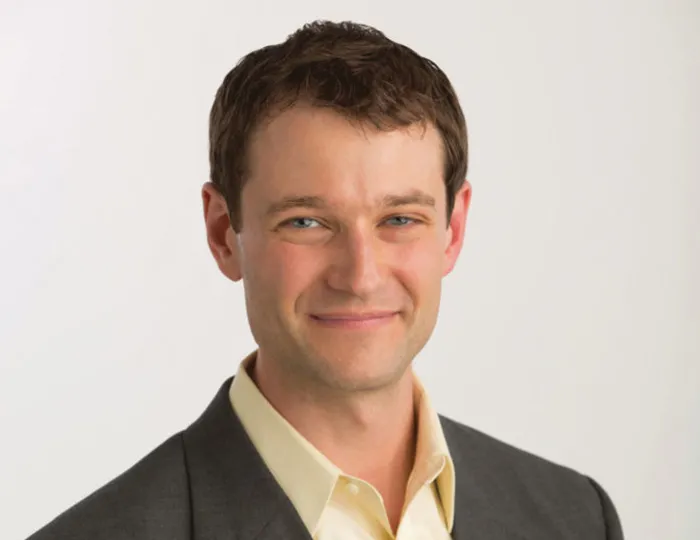 Junior Faculty Present Papers 
Of the 16 papers presented at the annual Yale/Stanford/Harvard Junior Faculty Forum, Michigan Law was the only school with two papers by faculty members. Gabriel Mendlow presented "Thought Crime," and Veronica Santarosa presented "Financial Intermediation Before Modern Deposit Banks." The goal of the forum is to encourage the work of scholars recently appointed to a tenure-track position by providing experience in the pursuit of scholarship and the nature of the scholarly exchange.
---
Gov. Signs Foster Care Bills
"The real world cannot be controlled in the way that a traditional law school classroom can," notes Don Duquette, '75, clinical professor emeritus of law, "but that is both the charm and the bane of real-world clinical work." 
Charm won out over bane when Governor Rick Snyder, '82, signed two bills into law on June 20 to improve the lives of families affected by Michigan's foster care system.
Three years ago, students in Michigan Law's Legislation Clinic began working on a bill that would change a small but significant part of the foster care system: sibling placement. "Up to 75 percent of all foster children are separated from a sibling," explains Andrew Bronstein, '14, who worked on the bill as a student in the clinic, which was offered in the Fall 2013 and Winter 2014 terms.
That new law will make it more likely that siblings will be placed in foster homes together whenever possible. The second law will prevent children's visits with parents from being terminated unless the visits would cause the child harm.—AH
---
Three Big Wins for Child Welfare Appellate Clinic
The Law School's Child Welfare Appellate Clinic this spring won three separate victories within a week—victories for individual families that could have far-reaching effects. "We've won cases every year," says Clinical Professor Vivek Sankaran, '01, director of the clinic. "But this year's victories will have a far bigger impact on the child welfare system."
The first case overturned a provision of the juvenile code that allowed the state to terminate parental rights on the sole basis of a prior termination. The clinic's second victory addressed the intersection between disability and child welfare. The third win reaffirmed that an incarcerated parent can provide proper care by arranging for someone else to care for a child during the parent's sentence. Read more here.—AH
---
Grads Secure Equal Justice Works Fellowships with Support from Firms
During the next two years, Kyla Moore, '15, and Diana Peloquin, JD/MSW '14, will be working at dream jobs of their own creation thanks to their Equal Justice Works (EJW) Fellowships.
EJW is the nation's largest post-graduate public-interest fellowship program, receiving nearly 500 applications for 60 fellowships each year. The two-year program matches recent graduates who are passionate about public-interest work with organizations that are in need of their talents. Applicants develop project proposals in conjunction with potential host organizations. Then EJW operates as a matchmaker that secures funding for top applications from sponsoring law firms, corporations, and foundations. Sponsors pay the fellows' salaries, often as part of their pro bono programs, and frequently also support the fellows' work by providing pro bono assistance and other resources to help increase their impact.
"It's a huge commitment on the part of a firm to pay for the services of a lawyer who will never work at their firm," says Mia Sussman, '07, associate director of fellowships, who left Latham & Watkins LLP to join EJW five years ago. "But it shows that firms are committed to public interest and pro bono practice, and it's a model that's beneficial for all parties involved."
Through the fellowship, Moore will explore her interest in economic rights as civil rights by working with Start Small Think Big in New York, a nonprofit that helps low- and middle-income entrepreneurs grow and sustain their businesses. Her project is sponsored by Pillsbury Winthrop Shaw Pittman LLP. Peloquin's fellowship at the Children's Law Center in Washington, D.C., is sponsored by the Morrison & Foerster Foundation. Her project's goal is to leverage a medical-legal partnership to promote the physical and mental health of children experiencing homelessness.—AS
---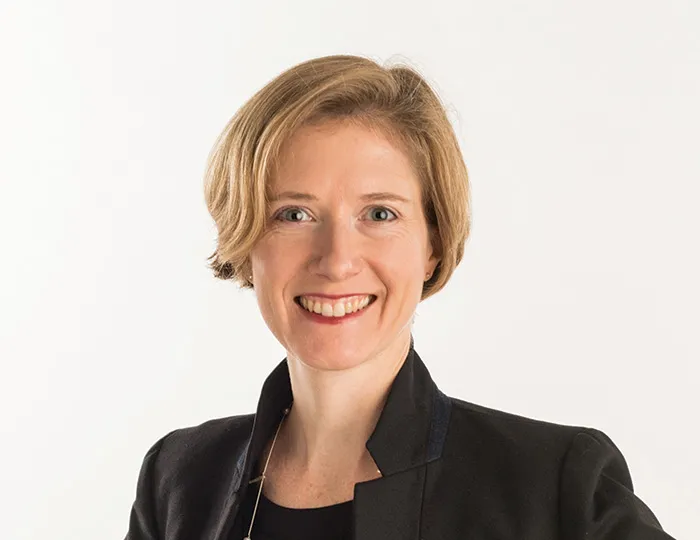 Andrias Receives L. Hart Write Award for Teaching Excellence
Assistant Professor Kate Andrias, who was described by one law student as a "quintessential example of the Michigan Difference," was named the 2016 recipient of the L. Hart Wright Award for Teaching Excellence, an award managed by the Law School Student Senate and voted on by students. "Anyone who meets Professor Andrias can't miss her incredible passion for labor law and social justice and equality," says Megan Pierce '16, who took two of her classes.
An expert in the fields of constitutional law, labor law, and administrative law, Andrias joined the Law School in 2013. She previously served as special assistant and associate counsel to the president and as chief of staff of the White House Counsel's Office. The L. Hart Wright Award is named after the Michigan Law professor who was widely influential in the law and deeply revered by the students he taught.—LA
---
Early Interview Week
The Law School welcomed back more than 220 alumni to the Law Quad to participate in Early Interview Week 2016. Employers from more than 500 offices conducted 4,656 interviews with Michigan Law students over the course of the four-day event. Nearly 60 percent of all interviewers were returning alumni. "Having interviewed at Early Interview Week several times as an employer myself, I understand that returning to interview is a sizable investment of time by people who already have extraordinarily busy schedules," says Ramji Kaul, '05, assistant dean for career planning. "We appreciate our returning alums, and we are excited to welcome them back in February for our annual Meet the Employers event, which we will be holding at the Big House this year."
---
Reunited
The first reunion weekend in September featured Friday-night class dinners, a pre-game picnic, post-game party, and, after a shaky start, a triumphant Michigan football game. Clockwise from top left: Francesca Hammer, wife of Michael Hammer, '66, observes the august Reading Room ceiling. Bob Dinerstein, '66, makes a new friend: Alice, the daughter of Professor Bridgette Carr, '02. Mark Luscombe, Will McLeod, and Vance Fried, all '76, share memories during the tailgate on the Quad. Ron Dalman, '58, and Jessie Dalman (front row) enjoy Dean Mark West's talk. Professor Emeritus Whit Gray, '57, and George Cameron III, '61, share a laugh with other alumni. Arnold Nemirow, '69, and his wife, Sharon, take in the donor wall in South Hall.