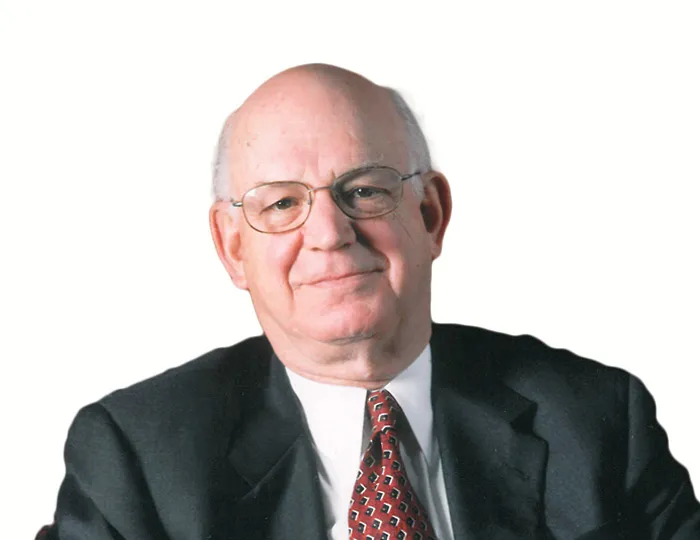 The Law School honored two outstanding alumni with the 2015 Distinguished Alumni Awards, presented at a September 25 ceremony. This year's recipients are Professor Emeritus Thomas E. Kauper, '60, and Yoichiro Yamakawa, MCL '69.
Now in its fifth year, the award highlights individuals who have made an exceptional impact on their profession, community, or Michigan Law. 
"Tom and Yoichiro have been extremely successful in their professional careers, and have also been great supporters of the Law School," said Dean Mark West. "Yoichiro is a tireless ambassador on our behalf in Japan, while Tom is part of a special group of alumni who dedicated their career to educating our students."
Kauper is the Henry M. Butzel Professor of Law Emeritus; he joined the faculty in 1964. He is an antitrust expert who twice served with the U.S. Department of Justice, first as deputy assistant attorney general in the Office of Legal Counsel and then as assistant attorney general in charge of the Antitrust Division. 
He also served for 14 years as a member of the American Bar Association Council of the Antitrust Section, and for one year as vice-chairman. He coauthored Property: An Introduction to the Concept and the Institution. 
Following a clerkship with U.S. Supreme Court Justice Potter Stewart, he practiced law in Chicago before entering academia.
Yamakawa, a partner in the Tokyo firm of Koga & Partners, serves on the boards of Nisshin Steel Co. Ltd. and Daio Paper Corp. He previously sat on the boards of Mitsui Sumitomo Financial Group and Daiichi Mutual Life Insurance Company. 
His areas of practice include general corporate work, international transactions and litigation, and freedom of expression. He has represented major media in some of Japan's most high-profile First Amendment cases. He previously was a visiting professor at Michigan Law, co-teaching Freedom of Speech in the U.S. and Japan with then-Dean Lee Bollinger. 
Yamakawa has written widely on constitutional litigation and freedom of expression, and on defamation and privacy. He also has translated into Japanese both Archibald Cox's The Warren Court and Joseph Sax's Defending the Environment.—AS