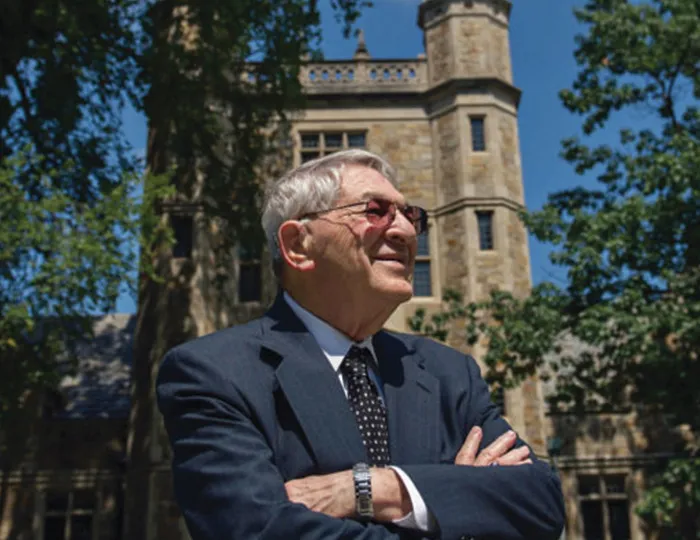 In honor of the Law School's longest-teaching professor, and one of its most influential, the U-M Board of Regents has approved the creation of the Douglas A. Kahn Collegiate Professorship. Professor Kyle Logue has been named the inaugural chairholder.
Much has changed since Kahn first joined the faculty in 1964, but his fervent support for students has remained constant for more than half a century. With the help of faculty mentors L. Hart Wright and Al Polasky, Kahn developed a new, problem-based approach to teaching tax, and quickly earned a reputation as a devoted teacher.
"He would invest energy, time, and attention into his students. It wasn't a distant relationship. He really wanted to get to know them, wanted to spend time with them. He took great pleasure from it himself," says Dennis Ross, '78. 
"He was always a positive, encouraging person, and not just for me, but for so many of his students." Ross has paid tribute to his former professor and longtime friend by making the lead gift to establish the Kahn Professorship. "It was the least I could do," Ross says. "You sort of go through life accruing debts and obligations, and I do not have a greater debt or obligation to anyone than Doug Kahn."
Teri Threadgill McMahon, '87, benefited from Kahn's devotion to students before she had even applied, and was likewise eager to honor him. "I would not have gone to Michigan Law School if it had not been for Professor Kahn's enthusiasm about the school and his interest in me," explains McMahon, who first met Kahn when he visited Duke University to recruit students. "He has a wonderful sense of humor and a joy of learning that is contagious."
A collegiate professorship represents one of the greatest honors the alumni community can bestow upon a retired faculty member: the recognition and continuation of his or her name and legacy by the committed teachers who follow.
The professorship was tentatively announced at Kahn's faculty retirement dinner in March, where his son Jeffrey Kahn, '97, presented a special memento: a framed cover of the spring issue of Michigan Business & Entrepreneurial Law Review, which was dedicated to Kahn. The special edition features personal essays written by Barrie Loeks, '79, Robert Pelinka Jr., '96, Terrence Perris, '72, Burt Rosen, '79, Dennis Ross, '78, Kelli Turner, '97, and Patricia White, '74.
Kahn says he is overwhelmed by these honors, but finds the greatest satisfaction in the success of his students. 
"I look back at my life now and realize how extraordinarily fortunate I have been. I have loved my career and still find a thrill from the classroom," says Kahn. "I not only enjoy the teaching of classes but also the friendships that I formed with some of my students. I take pride and pleasure in their achievements and whatever little role I may have had in helping them. All in all, it has been a great life."
The effort so far has inspired gifts totaling more than $570,000, including contributions from the following individuals:
Prof. Phillip Adams, '72
Kenneth Alperin, '76
Richard Burns, '71
Joan Churchill, '62
Samuel Dimon, '85
Stuart Finkelstein, '85
Jeremy Gibson, '87
Prof. Robert Hirshon, '73
Alexander Joel, '87
Meredith Jones, '97
Jan Kang, '87
Lydia Barry Kelley, '89
Jon Lipshultz, '87
Barrie Loeks, '79
Diana Lopo, '81
Teri Threadgill McMahon, '87
Barbara Mendelson, '81
Melinda Morris, '63
John Nannes, '73
Steven Pepe, '68
Terrence Perris, '72
Burt Rosen, '79
Dennis Ross, '78
Allan Sweet, '73
Suzann Threadgill
Dana Trier, '74
Prof. Stefan Tucker, '63
Prof. Lawrence Waggoner, '63
Prof. James J. White, '62
Patricia White, '74
If you are interested in making a gift in support of the Douglas A. Kahn Professorship or to the Douglas A. Kahn Scholarship Fund, please contact the Office of Development and Alumni Relations at 734.615.4500.