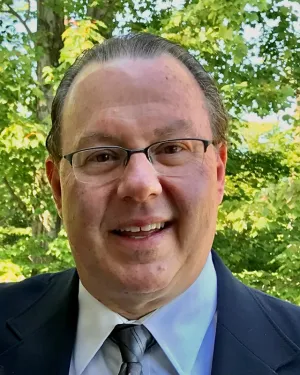 Throughout his career in law and local government, Ford Wheatley, '79, has firmly believed in the strength of American institutions and the nation's democratic legacy. With a desire to ensure that this legacy endures for future generations, Wheatley recently established an endowed fund at the Law School to support research, teaching, and activities that reinforce the pillars of democracy.
Wheatley's faith in the greatness of American institutions was shaped during his formative years. Both of his paternal grandparents served in the U.S. Navy during World War I and impressed upon him the importance of fulfilling his patriotic duty. His maternal grandparents immigrated to Detroit from Lebanon and shared with him their "deep love" for the United States and the opportunities it afforded them.
After receiving his undergraduate degree from Michigan State University, Wheatley's family encouraged him to continue his education, and national events helped steer him toward Michigan Law. "We were coming out of the Watergate period, and as I watched the Senate hearings, I gained a heightened appreciation for the role that lawyers serve in preserving institutions that are the guardrails for democracy," he says. That conviction has served as Wheatley's guiding principle throughout his career.
Following graduation, Wheatley was drawn to Colorado, trading his home state of Michigan for the Denver enclave of Glendale. He clerked while he was taking the bar and went on to launch an estate planning practice with connections he met through a group of Michigan Law alumni in Denver. In tandem with his law practice, Wheatley spent 36 years in local government, serving part-time as a city councilman, the town's mayor, and in various judgeships. 
Impressed by the legacy of philanthropy at the Law School and concerned by what he calls "attacks on institutions in this country," Wheatley decided to endow a fund at the Law School. The Ford Wheatley Fund Supporting Democratic Ideals will be used to support research, courses, events, and activities that study several pillars of a democratic society, including freedom of speech, natural resource preservation, and civil debate. 
"There is great importance in the separation of powers and an attorney's role within our institutions," says Wheatley. "I think a lot of us, myself included, have taken our democracy for granted and thought it was enough that we had been bestowed with great institutions and a great Constitution. If anything, we need to constantly work to protect those institutions, such as a free and accountable press and an independent judiciary. These are crucial and not a given by any means." 
Wheatley believes that the nation's democratic structures will face challenges over the next few decades, and he hopes the Fund will educate well-rounded students from an array of backgrounds who will not only learn the technical skills needed to do their jobs, but be instilled with values that help society at large. 
As Wheatley puts it, "the success of our nation's institutions is not automatically assured on its own. All of us in our small way have a role to play in ensuring that the work they do continues, and there is no better institution to assure that that happens than Michigan Law."