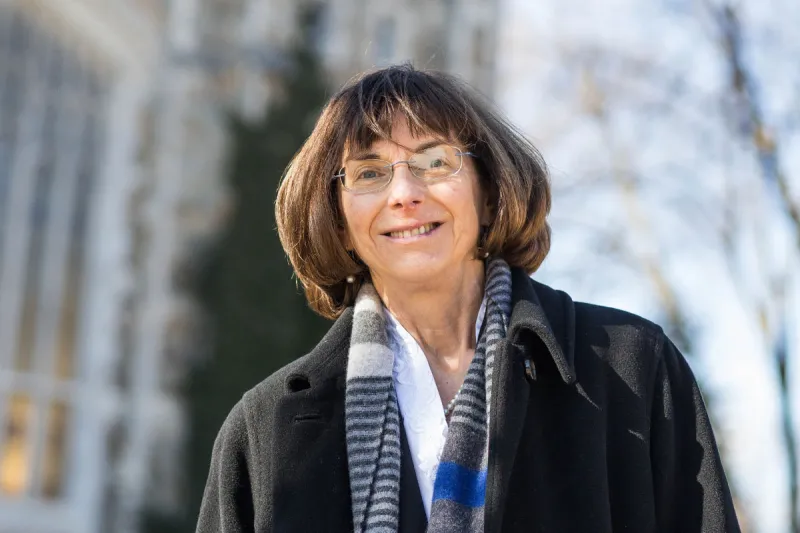 Barbara Garavaglia, '80, was sitting for the bar exam when the course of her career was unexpectedly turned on its head. During a break in the exam, she struck up a conversation with the person seated across from her, and afterward they went for lunch to discuss his experience working as a librarian at a law firm. 
"It was like a flash of light, a truly serendipitous moment when I realized I wanted to be a law librarian," says Garavaglia, who recently retired from the University of Michigan Law Library following 32 years of service. 
After further research and soul searching, she gave up a judicial clerkship and her planned career as a public interest lawyer to earn her master's degree at the U-M School of Library Science (now known as the School of Information). Garavaglia completed the program while working as a research attorney in Ann Arbor, where she supported small firms by researching and writing appellate briefs and providing training seminars on emerging legal databases like Westlaw. She went on to run electronic research services at the State Law Library of Michigan as assistant director, supporting private and government attorneys, among others. 
In 1988, Garavaglia returned to Michigan Law as a reference librarian and was shortly promoted to the head of the reference department, a position she held until she assumed the role of assistant director in 2007. From 2011 until her retirement last fall, she served as director of the Law Library. 
Garavaglia's tenure at the Law School was marked by dramatic change as the world of print research was transformed by digital research tools. She led the library's efforts to modernize the collection, and as director she restructured the library's budget to manage cost increases in legal publishing without harming research capability. But her efforts to reshape the Law Library's support of faculty research and scholarship is perhaps her most significant legacy. She built the infrastructure for the research service while also dedicating long hours to conducting in-depth research.
"Her tireless work designing and building the University of Michigan Law Library's faculty research and document delivery services resulted in expert in-depth programs that became integral to faculty scholarship under her leadership," Dean Mark West noted in his announcement about her retirement. 
The changes she oversaw involved everything from the seemingly mundane overhaul of document delivery workflows to the more nuanced cultural shifts that empowered reference librarians to add real value to scholarship. The processes and services she designed have since become a model for academic law libraries throughout the United States.
"When I started, the faculty research service consisted of two law students working on routine research, but students generally don't have the experience to handle the in-depth discussions that accompany the intake of a research project, nor do they have the expertise to handle complex projects," she says. "So, we hired attorneys who were expert researchers who could be more involved with our professors. We were the very first in the country among academic law libraries to do this sort of thing."
Garavaglia also brought a service-oriented mindset to the library and encouraged librarians to create a welcoming environment, an approach she credits to her experience as a first-generation law student. "Law school can be a really alienating experience, and I always wanted the library to be a place where there is no stupid question—where students have access to librarians with legal expertise to help them develop the skills essential to good lawyering."
"Working in a profession that integrated my legal education and interest in complex and varied research and problem solving was amazing, and to have been able to participate in the intellectual life of the Law School by working closely with Michigan Law faculty on cutting-edge scholarship is something that I'm very proud of," she says. "I have never regretted my choice of career. People always say, 'Librarians tend to be such happy people.' Well, that was certainly the case for me."