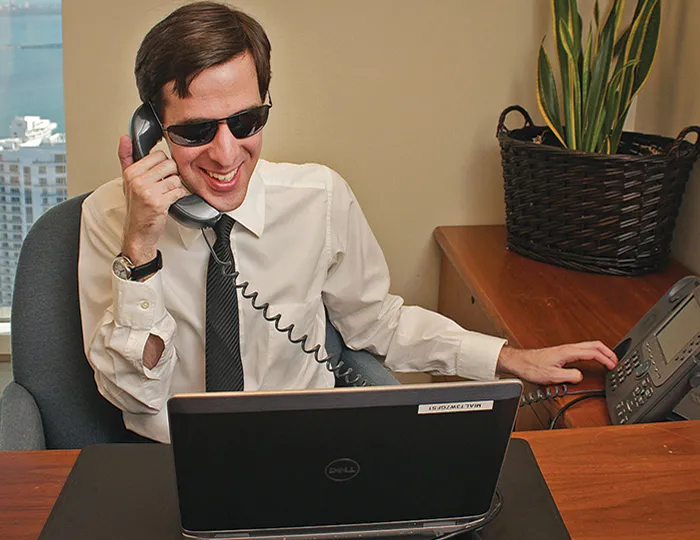 According to Daniel Matzkin, '09, his typical day as an assistant U.S. attorney in the Southern District of Florida is just like everyone else's in that same position. And if you ask whether law school was particularly challenging for him, he'll tell you that it is equally challenging for nearly everyone.
In other words, Matzkin downplays the fact that he's been blind since birth with a condition called Leber's congenital amaurosis, and that his extraordinary achievements are an extension of what he's always done. It's a formula of hard work, determination, humor, and a personable nature. Not that he'll say any of that; another of his agreeable traits is that he dislikes talking about himself.
Still, Matzkin understands that many people will find his story interesting. "I can appreciate how [I] could inspire people. My story might also be helpful to parents who have kids who have blindness or who don't have 100 percent sight, wondering what's going to happen or what they'll do."
That story goes something like this:
Matzkin, originally from Miami, graduated from Wesleyan University in Connecticut with honors. His thesis, "Sight and Foresight: Blindness in Classical Antiquity," won a prize for the best original essay on Greek or Roman civilization. After graduating from Michigan Law, he landed a job as a litigation associate at Squire Sanders (now Squire Patton Boggs LLP) in Miami, where he worked for four years. Then he beat out nearly 1,000 other applicants to obtain a prestigious clerkship at the U.S. Court of Appeals for the Eleventh Circuit. The pattern repeated itself when he landed a coveted assistant U.S. attorney position.
In a profession that relies heavily on reading and research, Matzkin is aided by screen-reading software called JAWS—short for "job access with speech." The program quickly translates text into spoken words.
"I read in the same way millions of people listen to audio books," he says. The JAWS software is technology-forward, helping him shift from reading email to reading a brief through keyboard shortcuts, but its function is similar to the way he's processed information for years. "I grew up doing things the same way. JAWS is just a continuation," he says.
JAWS isn't something he typically uses in public, however—including in court. "It's not that it's not practical, but it's difficult. It's tough to find things on the fly for a blind or sighted person."
Consequently, he says, he preps in advance and memorizes the information that he needs for court. Still, he declines to say that his process is more challenging than anyone else's. "It's not that different from a sighted person," he says. "There are several of my colleagues who don't bring notes in. They might have more choice in the matter, but they work the same way."
Court appearances are an anomaly for Matzkin because oral arguments are granted in only a small number of his cases. "A vast majority of our cases are decided on the briefs. That means day to day, most of our time is spent reviewing records, doing research, and writing."
His work is focused on appellate litigation, mostly criminal but also some civil cases. This type of public service has been a passion for years, he says. His clerkship was focused on appellate work, and he did as much as he could in private practice as well.
"I'm dealing with a different set of issues every day," he continues. "A lot of it is learning on the spot and figuring things out," he says, which is one of the ways his Michigan Law education helped prepare him for his current role.
While it's not something he focuses on day to day, he is aware that gene therapy may hold potential for a Leber's cure down the road. "There's always hope," he says. "But I'm assuming the status quo will remain in place. And I'm doing my best in the meantime."
His best is exceptional, by any standard. So is doing a job he loves. "Signing briefs or going up in court saying, 'I represent the United States'—that's a cool thing. That's a thrill."