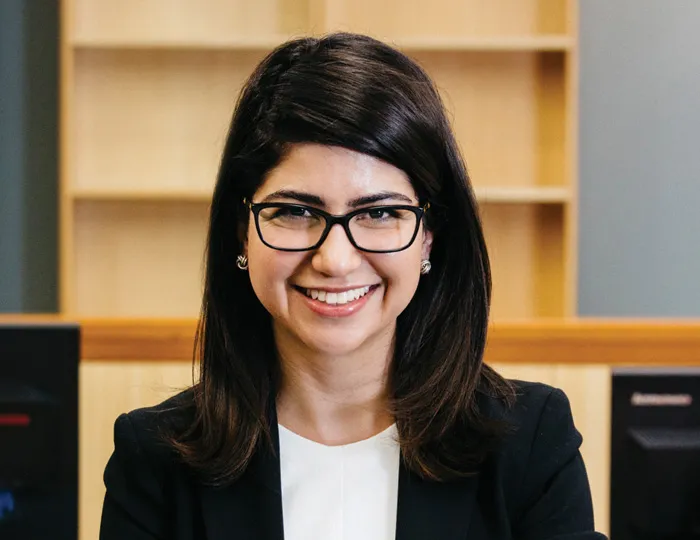 Long before American television viewers awoke to reports of a suspected terrorist attack in Australia, Geeti Faramarzi, LLM '13, was watching the chaotic scene unfold live outside her Sydney office.
"I was told that an armed robbery was taking place next door at the Lindt Café," recalls Faramarzi, a solicitor at the Office of the State Coroner of New South Wales (NSW). "I remember thinking that the police response was somewhat disproportionate for an armed robbery, but given the financial and government buildings in the area, I didn't think much of it." Tuning in to a local television station, Faramarzi and her colleagues soon learned the true nature of the attack and were among the first office blocks in the city to be evacuated.
Within days, she joined the legal team assembled to assist the NSW state coroner in conducting an inquest into the fatalities that arose from the attack and the subsequent police response.
"Such an event was unprecedented in Australia and has brought immense media attention as well as public concern," Faramarzi says. "The size of the investigation, and presenting it in evidence, also presents a major logistical challenge. My team is tasked with the independent, transparent investigation and presentation of the matter in court before the State Coroner, who will ultimately deliver findings as to the 'time, place, manner, and cause' of the three deaths that occurred."
The attack began around 8:30 a.m. on December 15, 2014, when a man, later identified by police as Man Haron Monis, took hostage the chocolate café in Sydney's central business district. Armed with a sawn-off shotgun, the attacker ordered the café manager to notify Australian emergency services that the country was under attack by the Islamic State.
The standoff continued for 17 hours, finally ending when police stormed the café following a report that the attacker had shot the manager. Monis and a second hostage were killed during the ensuing police response—deaths that mandated an inquest under the Coroners Act 2009 (NSW), Faramarzi says.
"Two important functions of the coroner under the act are the investigation and the prevention of deaths," she says. "The objects of an inquest include placing on record all evidence as to the facts and circumstances of death, and informing the public, through an impartial inquirer, of the broad facts of the matter, and informing all concerned, in appropriate cases, of the precautions that may avoid repetitions."
To assist the state coroner with establishing the manner and cause of the deaths, Faramarzi and her colleagues are tasked with clarifying the factual issues related to manner and cause and taking the state coroner's instructions on those issues that ultimately will be investigated and given in evidence.
"The coronial jurisdiction is not adversarial; rather, it is inquisitorial in nature, and we work closely with the state coroner and the interested parties in the conduct of the litigation," Faramarzi adds. 
But like any investigation, it has its own challenges.
"This event raised questions about the efficacy of Australia's security and intelligence, and effective counter-terrorism response, and as a result we are confronted with the need to balance the public interest in a transparent coronial investigation with the need to maintain confidentiality over sensitive evidence, for security purposes," Faramarzi says. It is, she adds, a chief goal of the legal team to provide the state coroner with the best evidence related to the attack and to allow the established facts to "speak for themselves."